EATING AND SIGHTSEEING IN SICILY
19/08/2009
Palermo, 27-30 August
At the beginning of our Sicilian Odyssey we land in a hot and welcoming
Palermo
on a Wednesday night and head directly to our
B&B "Castiglione"
http://www.bbcastiglionepalermo.it/ ) located at Piazza Stazione Lolli, just off Via Dante. An efficient train transfers us quickly from the airport at Punta Raisi to the main train station. It's far too late for buses and our only option is a dreaded taxi and we end up paying 20 Euros for the short journey to our B&B.
Well, benvenuti a Palermo!
The next morning, energised with a calorific and sugary breakfast of typical Sicilian pastries with abundant amounts of cream served by our charming and chatty hostess Maria, we begin our exploration of Palermo, a boisterous and vibrant melting pot of influences, sounds and styles.
I fell in love with Palermo at first sight, the way you fall into the arms of an old flame, a lover you haven't seen for ages, but the spark is still there. On the surface, Palermo's rich architecture reminded me of Trieste in the Italian far North-East and Rijeka in Croatia where the Austro-Hungarian Monarchy left a lasting imprint. But then my eyes stumbled upon the Catalan Gothic building of the
Palazzo Abatellis
and the linear Arab-Norman buildings of the
Palazzo dei Normanni
and the chapel of San Cataldo and my attempt to define the style of the fifth biggest town in Italy melted in an instant.
The impressive
Cathedral of Palermo
at Corso Vittorio Emanuele is a mixture of styles left behind by many colonisers that set their foot on Sicilian soil. From the Catalan Portico to the Arab Inscription and the arched crenellation motifs of the Norman Architecture, it gives us a vivid account of the varied and drastic history of this town and the Island. Sicily was colonised many times and by many invaders, who all left an imprint on its contemporary landscape. First there were Sicani, Elymi and Siculi, then Carthaginians, Greeks, Romans, Byzantines, Arabs, Normans, Angevins, Aragonese, Bourbons and today there is the Mafia…
Teatro Massimo
on the Piazza Verdi is the third biggest opera house in Europe (after Paris and Vienna) and is known for its perfect acoustics; the final part of Godfather III was filmed there. There are no performances in August, unfortunately.
Our hostess Maria feeds us every morning with a variety of decadent and calorific Sicilian pastries filled with ricotta cheese and crema pasticciera (custard-like vanilla cream) and hot croissants with apricot jam, plates full of figs, pears, melons… I'm mad on figs and they are best eaten early in the morning straight from the tree. They melt in my mouth and my chin and fingers get sticky and sugary.
We are fascinated by the friendliness and helpfulness of Palermians, or whatever is the word for people of Palermo. The recommend a friend option is in full spin here and it works brilliantly. Maria recommends us a good local rent-a-car agency. Marco from the Holiday Cars Rental recommends a restaurant owned by his friend down in Piazza Bologni – which is close to the Cathedral and so convenient for lunch! We turn up at
Carlo V
with the motto "Ci manda Marco…" and get excellent service and a luscious meal. We start with a platter of Italian Antipasti (bresaiola, prosciutto, selection of local cheeses) and follow up with a fantastic mixed fish grill. Delicious. And the bill wasn't bad either; just over 40 Euros for two.
Palermo's markets are a fusion of colours, sounds and smells.
Vucceria
and
Ballaro
are the most famous, selling everything from fish, meat, fruits and vegetables to dried fruits, spices, jams and various other bargains. Narrow cobbled streets are buzzing with loud stall holders, curious visitors and enthusiastic bargain hunters.
I want to have an authentic Italian hairstyle - including a cut, colour and styling – and Maria recommends the hair salon below the B&B. Il parucchiere Antonio recommends a darker colour which would contrast my pale
con le lentiggini
freckled skin. I'm happy with my new Italian look and now I just want to check on sales in the Italian shops Stefanel and The United Colours of Benetton. A few bargains and I'm ready for the rest of the Sicilian adventure. Sicilians are proud of the way they look, not obsessed with dieting or pretending, and with no size 0 models around I feel comfortable walking around Palermo in my summery dresses and halter neck tops.
We would finish our evenings in Palermo with a slice of succulent and juicy melon on a flowery tray from
Giovanni
– a peculiar concept, consisting of a man with a small stall and 3 mix & match tables - on corner of Via Dante and Piazza Stazione Lolli. Giovanni sells only watermelons and prickly pears. A few locals looking are watching an Italian variety program on a minuscule telly on the shelf above the watermelons. For some strange reasons, these moments seemed the most Sicilian you can get…
Cefalù, 30 August, morning
When I was seventeen or so I - or my family or someone I knew, I can't remember exactly - received a postcard from Cefalù, a picturesque fishing village with a giant cathedral and in the shadow of a massive rock in the background. I had wanted to visit it ever since.
After picking up our black Renault Clio from Marco at Holiday Car Rentals we ooze through the Eastern suburbs of Palermo and along the island's quiet northern motorway.
One hour later, we are strolling down the maze of narrow medieval streets and lanes of Cefalù, crammed with souvenir shops, restaurants, fruits & vegetable stalls, café and hanging washing. Nestled between the rock and the sea, Cefalù is even nicer in the flesh than on that old postcard.
In the cathedral, which is the most dominating building hanging over Cefalù, we witness a small local wedding. All the men are wearing black suits and black shirts. In this beautiful setting, the young couple emerging from the Duomo, look just as though they're stepping out of a Italian movie. I just can't remember which one I'm thinking of.
We manage to find an English newspaper and have a macchiato and a cappuccino overlooking the most gorgeous sandy beach, taking in the smells, sounds and colours of Cefalù.
Before long we are back on the Palermo-Messina autostrada. We drive through desolate and dramatic scenery with earth and hills starved of water and turned an exhausted orangey colour; we pass many bridges and viaducts that ride the wild scenery, with the deep blue Tyrrhenian Sea to our left. The scenery is breathtaking, but you can imagine that life has never been easy here.
Milazzo, 30 August
Two hours of leisurely drive later we reach the peninsula Milazzo. After inconveniently leaving the directions in London, we try to dig out of our memory the map of the area with the highlighted road to
B&B Fiorello
(http://www.infomilazzo.it), our lodging for the following two nights. Unsuccessfully! After admitting defeat in the labyrinth of one way streets of
San Pietro
, we phone Giuseppe. The cheerful owner of Fiorello turns up in a minute – literary – as we were actually just two roads away, but kept missing the right turning…
Giuseppe feeds us with fresh figs from his garden (yummy) and a selection of Italian juices. Afterwards we enjoy a relaxing and well-earned siesta in our specious room with charmingly antique furniture and stone floors. The air-conditioning is on full blast as we wait for the sun to cool down.
Saturday night fever in Milazzo and everyone from the place itself and nearby villages is out and about; for a leisurely stroll on the lungomare, a creamy gelato in one of the many out-of-this-world gelaterias, a dinner in a restaurant or just drinks in a bar on the seafront. Driving is a tricky and confusing affair and it's challenging to navigate through double-parked and extremely busy streets. We leave our car on a steep hill close to the Castle…a nice little walk away from the centre of Milazzo.
A very impressive
Frederick II Castle
is located on a rock high above the village and as we stroll back to Milazzo we witness another wedding in the old cathedral just below the fortress. The bride is young and gorgeous and the groom is wearing an all-black-suit.
Congratulazioni!
Mangiare così presto? Eating so early? Restaurants don't open before eight! Maybe we should have had a big lunch in Cefalù after all. In Sicily do as Sicilians do – eat from 8 to midnight. Well, you couldn't do it any other way even if you wanted – no eatery opens before 8. So – adapt or starve.
La Casalinga
(Housewife) is a family run trattoria down a narrow but buzzing lane leading to the seafront. We start with Spaghetti al pescatore with a lingering taste of saffron and basil and then we move to secondo piatto of grilled mixed fish (prawns and squid) and a green salad – just over 40 Euros all together. Not much alcohol though, as we have to find our car and then navigate back to B&B Fiorello. Needless to say, we get lost again and end up on a dark beach with only one bar open. Luckily, they are good at giving directions.
Panarea & Stromboli, 31 August
It's Sunday and we are woken by rhythmical church bells inviting good Christians to morning mass. We stroll down to the local church and just glance in. The church is full of worshippers; after all this is the home - well almost, as the Vatican is a separate state - of the head of the Catholic world. Next door to the church there is a small café where a group of elderly men is playing cards and sipping coffee. They might have lost their religion or are just happy enough with their wives praying for them…
Giuseppe is taking us to
Capo Milazzo
, the pinnacle of the peninsula, where a battle between the Roman and Carthaginian fleets took place, some time BC. We enjoy the captivating views of the lighthouse, transparent sea and the famous Aeolian islands in the distance, our destination for the day.
Before boarding our boat to the islands of
Panarea
and
Stromboli
, we chat to sleepy fishermen who have just come back from a night on the open sea.
I'm also trying to buy a beach towel – they are too heavy to carry from London and so easy to find (at least I thought so) in coastal resorts around the Mediterranean. OK. Except in Milazzo. It's the end of summer and beach towels (tele da spiagga) have been sold out... I should have bought that tacky red Ferrari beach towel on Walthamstow Market after all. I buy a blue straw hat "Made in China" instead…
We sail out for the Aeolian Islands at noon. The sea is calm, the sun is exaggerating and five dolphins are dancing around and racing with our boat.
Our first stop,
Panarea
, is one of the smallest islands in this archipelago with only 300 or so permanent inhabitants, but a thousand or so summer migrants. The Sicilian sun is draining us out and after a 20 minute walk up and down attractive passages between world-of-interiors villettas on 40+ degrees we collapse exhausted at the terrace of the café-restaurant "Porto" and have a light tuna salad lunch. Followed by a chocolate cake…
Later in the afternoon we sail on for the island of
Stromboli
, with one of the three live volcanoes in Italy. I can't stop thinking of Ingrid Bergman and the masterpiece of Italian neorealism which was set here. The Movie "Stromboli" is a poignant story of a WWII refugee who marries a local fisherman and finds it difficult to adapt to the harsh rural lifestyle. The harshness of a life on such an island evaporates from every corner, even now, fifty or so years after the movie was made.
We head to the pitch-black volcanic beach where the sand and the rocks have been formed from the erupted masses and the water is hot and welcoming. As I come out of the water, my feet get covered in black sand and they look like two enormous buns covered with poppy seeds.
On the way back we join in la maccheronata, the dinner prepared by the crew.
La Maccheronata
basically means a meal made of pasta, but it can also mean an informal meal between friends. The crew treats us to a portion of
Pasta alla Eoliana
- with tuna, capers and black olives in a light tomato sauce – and a glass of local red wine.
Before sailing back to Milazzo we stop in front of the volcano of Stromboli to enjoy a night view of eruptions. We don't wait long before we see a sharp blaze of pinkish red fire shooting in the air and then disappearing in a pitch black night.
Mazzeo & Taormina, 1 September
On the road again. Our next stop is
Taormina
, the poshest, most attractive but also one of the most touristy locations on Sicily. With many palm trees and other vegetation, the landscape around the autostrada is entirely different from the one on the way from Palermo. It's greener and more fertile, which has probably happened as a result of the continuous eruptions of Etna.
When we arrive at Mazzeo and at the B&B on the beach in the shadow of hilly Taormina, we are in for an unpleasant surprise. After meticulous research on the website
www.siciliano.it
we choose a B&B owned by an Italian-English couple, which seemed a good option as I naively thought that I could finally have a rest from speaking Italian and that my other half could take over all the arrangements. All sounded perfectly fine on the phone. But – reality was different.
"We don't have a record of your booking…" – says the Italian man and phones his English wife. My H talks to her and her cool and unapologetic "I will make a few phone calls and will find a room for you!" infuriates my otherwise calm companion.
"It looks like the beach house with fantastic views overlooking the beach is just a cover-up. They do it all the time. It looks like an old trick…" he whispers in my ear as we move aside while the Italian-English scam artists decide what to do.
Fortunately, next door there is a café with a sign "Camere". Pinuccio, the friendly and trustworthy owner of the café, finds a room for us just down the road, two minutes from a stunning beach.
(A piece of advice: if in the area avoid Taormina Beach House…)
We turn into beach bums for the afternoon (and our pale bums turn red from overexposure to the sun – but that's irrelevant) and we quickly forget the problem with the booking. I take my book and hide behind a large parasol and my huge new beach towel (and it's not a Ferrari design). The sea is gorgeous and swimming very enjoyable.
After a short ride with the local bus we reach the hanging houses of Taormina in the late afternoon. Touristy, bursting with souvenir shops, restaurants, pizzerias and bars, this citadel is a heaven for well-to-do tourists. Shopping here is a pricey affair and the choices are immense; from United Colors of Bennetton to La Furla bags and Trussardi accessories, there is not much you can't find here. We even stumble across a British Pharmacy, where we buy some Nurofen. World famous Sicilian ceramics and marzipan are sold on every corner, while English, French and German languages are overheard more often than Italian.
I don't like ice cream, but in Sicily I can resist it and the fig ice cream bought in a gelateria in the centre of Taormina is the best ever. Than there are tiramisu, watermelon, coconut, peach, pear, lemon and many other flavours still to taste… This holiday is just not long enough.
We end our evening on the terrace of
The Wunderbar
on Corso Umberto I, where
Liz Taylor
and
Richard Burton
used to sip cocktails. And it is easy to understand why; the views of the sea below are breathtaking and the square is picturesque with people strolling along. And a beer and coke cost 12 Euros…
Taormina & Castelmola, 2 September 2008
Instead of an early excursion to Mount Etna starting at 7.30, we opt for a lazy morning on the beach and enjoy a few hours of swimming and roasting at 30+ degrees Celsius.
In the afternoon we visit the
Teatro Greco
at Taormina. The large ancient theatre sits on a cliff slightly above the city and has superb views of Etna and the beaches around Taormina. A storm with thunder and lighting develops suddenly and we get caught in a downpour and run to a narrow passage in the theatre to stay dry. The shower lasts for a mere 10-15 minutes and it is again warm and pleasant as if the deluge had never happened.
We take a bus for a 5 kilometres vertical drive to
Castelmola
. The views and steepness are stomach-turning. But – it's worth it. We witness a small local wedding down the narrow valleys and enjoy astonishing views of precipitous hills with dried out orangey soil.
We have our dinner down a narrow valley in Taormina in a restaurant called
Gambero Rosso
and end up chatting to a couple from Weston-super-Mare. Sea food and a bottle of Pinot Grigio Principe di Corleone seems a match made in heaven.
I also can't resist a few souvenirs: two tiles with designs of grape and cherries for our kitchen wall, a typical Sicilian bowl and a tacky tea towel…
Pergusa, Piazza Armerina, 3 September
Just like an ancient Olympus, Etna dominates the deserted and desiccated landscape as we drive towards Catania and then inland. In less then two hours we reach Azienda Agrituristica
Baglio Pollicarini
(www.bagliopollicarini.it), a farm near the lake of
Pergusa
, between unspoiled rolling hills and sounds of crickets.
Piazza Armerina
is just twenty or so km away and we spend the afternoon wandering around its narrow streets and visiting the mosaics of the nearby
Villa Romana del Casale
.
Sipping down cappuccinos and nibbling yummy and calorific cakes with ricotta cheese in
Café des Amis
we chat with the friendly locals. Sharp bells from the cathedral are waking people up from a revitalising afternoon siesta. The shoe shop next door is closed, but when someone sees me staring at its windows, they rush to find the owner. A middle-aged sweet-talking Italian shop owner opens the shop for me and gives me a celebrity-like treatment. He makes me try 5-6 pairs of shoes I express interest in (purple, red, blue…), hurries around trying to find matching bags, purses and scarves. I walk out with a pair of very Italian red shoes with tartan motifs. Apparently, tartan is in this season.
Villa del Casale
is the home to the best-preserved and most attractive Roman mosaics in the world. It was discovered only in the late 19th century and the flawless mosaics were preserved thanks to a flood that buried them in mud in the 12th century. The mosaics of pretty sexy female gymnasts in bikinis are great. I would wear something like that!
Baglio Policarini was opened just a few months ago and it took its owners four years to refurbish the old farm house. Bed & breakfast plus a 4 course dinner with a bottle of white wine set us back only 126 Euros.
The dinner is served under a clear sky and it goes straight into the top 10 of our best meals over the last 10 years (alongside a traditional Bosnian meat feast in Sarajevo and a fish banquet in Brtonigla). The Sicilian feast starts with a spread of authentic local antipasti, home made bread, sun dried tomatoes, olives, aubergine caponata, peppers in a wine and breadcrumbs sauce, courgette pasties, grilled slices of aubergines with salted ricotta and a plate of Parma ham with melon, Milano Salami and cheeses (including Pecorino).
Already struggling, we move on to
Pasta alla Norma
(named after Bellini's Opera), with pieces of sausage, aubergine, tomato, basil and salted ricotta. For the main we eat a loin fillet and pork sausage (all locally produced) with rosemary potatoes. We wash it down with a bottle of Sicilian white wine (Grillo by Principe di Corleone). There are still pistachio cakes, a selection of fruits and bay leaves liqueur to come…
Luckily we need just to stagger across the patio to our room…
San Leone, Agrigento, 4 September
A deserted road through Spaghetti Western-like hinterland, sloping hills and forlorn trees and small farms takes us to
Agrigento
. We are staying in San Leone and our
B&B Sabbia d'Oro
is right next to an alluring sandy beach… A few hours under an "ombrellone" on the sandy beach is just what we need…
After an afternoon stroll around Agrigento we try to buy some stamps. An impossible task! Tabacchi sell only domestic stamps and in the main post office in Agrigento there are only nine European stamps left… The rest are in the safe till next morning???? So dear friends & family sorry but we can't send you a card…
Valley of Temples, Agrigento, 5 September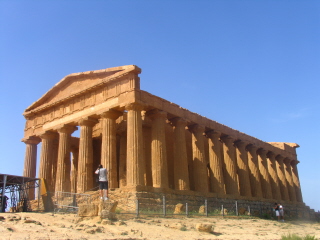 Trying to escape boiling temperatures, we head to the mesmerising
Valley of Temples
, the main attraction of Agrigento, at the crack of dawn. We stroll around breathtaking monuments, from the temples of Juno, Concord and Hercules to Byzantine remains. But by 10 the temperature is already 35+ and we head for slightly cooler Kolymbetra's Garden. The valley is full of trees of figs, prickly pears, oranges, lemons, rosemary bushes as well as courgettes and aubergine plants.
By the time we reach the archaeological museum our brains are overcrowded with information on ancient civilisations and we just quickly stroll through a maze of vases, amphora, antique bracelets and so on...
For dinner we head to a locally recommended restaurant,
Trattoria Dal Pescatore
, and indulge in our favourite holiday hobby – eating and drinking. We start with Mediterranean salad (octopus, calamari and prawns with basil leaves), followed by grilled swordfish and grilled red mullet. We finish with a tiramisu, which – to our biggest disappointment – was from a supermarket…
Palazzo Adriano, Piana degli Albanesi, Palermo, 6 September
Time to head back to Palermo…and get mentally ready for our return to a cold and gloomy London.
We head 'off the beaten track' and away from the recommended routes and explore more of unknown inland Sicily with breathtaking diverse scenery which varies from desiccated orangey hills to oases of green artificial lakes and abundant vineyards.
By the time we reach
Palazzo Adriano
the sun is high up and absolutely scorching and it's only 10 in the morning. In this charming hamlet
Giuseppe Tornatore
filmed his famous movie
Nuovo Cinema Paradiso
. Surprisingly, there are hardly any tourists around and our pale look and freckles becomes the main attraction on the impressive square. Everyone talks to us, shows us around the places where the movie was set and joins us in the "Bar" opposite the church. Men are sitting on random chairs in front of houses and discussing the weather and politics (and who knows what else).
Palazzo Adriano was an Albanian settlement and there are quite a few remains of it. The main street is called after Skanderbeg, the most famous hero in Albanian history, remembered for its resistance to the Ottomans. The flag of Palazzo Adriano is a black eagle on a red background. From Palazzo Adriano we head to another Albanian settlement -
Piana degli Albanesi
.
We drive through Corleone, a village known for many fictional and factual connections to the mafia. As an adopted surname, Corleone become famous in the book and the movie "The Goodfather". However, the reality of this place is not far behind the screen story. In Corleone just over 2 years ago a mafia boss who was in hiding for 40 years was arrested. And no – we are not brave enough to stop.
In Piana degli Albanesi the presence of the Albanian heritage is much more obvious than in Palazzo Adriano and all the signs are both in Italian and Albanian. We sit down in a café next to the Orthodox Cathedral San Giorgio and indulge in a selection of fabulous Sicilian pastries with ricotta and custard cream and espressos. A special place high up behind the bar is dedicated to a flag of Arsenal!? Oh God, I can't get away from it!
The owner tells us the story of a London lawyer who loves this place and brought along the flag of his club. However, recently another Londoner popped in and shocked by discovery of a rival banner, promised to send a Tottenham flag. I guess - we'll have to pop in some time in the future and check on it!
Two concerned ladies see us wandering around and with the worry in their voice tell us:
"tutto è chiuso perche fa troppo caldo!"
. Everything is closed and life stops due to high temperatures…
Back in Palermo we treat ourselves to a culinary extravagance at
I Sapori Del Mare
, a "ristorantino" in Via Re Federico 8.
L'ultima cena to recordare
.
We start with a spread of antipasti, including the aubergine caponata, panelle (made of chickpeas flour), oysters, insalata di mare (with calamari, octopus and prawns), marinated anchovies, and salad Valeriana (prawns, sliced fresh mushrooms, walnuts on a bed of young spinach). Than we move on to pasta trofie (the owner admits this is a typical pasta from Genoa, but they adopted it) with swordfish, tomato, aubergines and mint leaves. We have a finger licking main of grilled swordfish and prawns with a green salad. We finish our last supper with a caramelised fruit salad and a Sicilian pastry with ricotta and chocolate bits.
Luckily, B&B Castiglione is just around the corner…
Arrivederci Palermo…