Cafe's for writing (E17, London, etc)
I rarely venture on the other side of the confusing roundabout by Walthamstow Central. I do it on a rather chili morning in early October. And - I am glad I did it. This place is spacious and welcome. There is an amazing assortment of loose leaf teas. I opt for orange and rose flavour. Next time I'll try mango. Sometime half-a-way my stay, the waitress comes to my table and asks me whether I would like my tea to be reheated? Oh yes, please! The chocolate twist is delicious and I've already made a list of which cakes will I try next... And, yes, I've also managed to do lots of writing. Thinking too...
My new favourite local cafe' since its refurbishment (see number 7). An airy, light, relaxed and inspirational place. Fantastic Wi-Fi. Friendly atmosphere. Reminds me of Berlin's Digital Bohemian cafes. Lots of researching and writing done in here on a weekly basic... Delicious orange chocolate cake. Espresso 4/5.
I am welcomed with a smile and friendliness I haven't experiences in a café for a long time. I chose a place half a way between the door and the bar. Not a typical café – rather a relaxed evening bar working the morning shift. The interior reminds me of French bistros. There is lots going on. The manager sits with me and tells me about the history of the café and about Cockfosters. About football players and other famous regulars… The double espresso is perfect: thick consistency and rich in flavour, leaving behind a pleasant linger. Of course - it's Illy!
Writing: a little. Thinking: a little. Presence in the moment: 100%.
A rainy day in Blackhorse Road. Soft and dreamy jazz music in the background; and sporadic hissing noise of the coffee machine. The double espresso is brewed to perfection but the coffee is under-roasted, leaving behind a bitter taste. People with sleepy eyes are popping in for a take-out caffeine fix… Or for vintage audio appliances repairs…
A rainy and chili day in July (so London)... Creative and funky refuge attached to the most academic bookshop in London in the very centre of the student life. Patrons are either engrossed in heavy books or intellectual conversations. Palenta and orange gluten-free cake is light, crumbly and yummy and the espresso can wake up a horse. Not the smoothest taste, but certainly the highest level of caffeine I had in a while... Oh I do like it in here...and feel ready for my MA in the autumn...
Colourful, relaxing and refreshing cafe' in the park around the corner from my home. Perfect place for a slow breakfast or late afternoon drink after a walk around the park or a play session in the children's playground or in the tennis courts. Perfectly peaceful in the morning hours. It serves delicious cakes, soups and croque monsieur. And the double espresso it's not bad either...pity it's served in paper cups...
Quirky, original little place playing "cool" music (Blondie at the moment). Relaxed, friendly, with a couple of tables only and a corner with gifts, cards and children's cloths. I could spend hours in here... Writing, reading...or just thinking and listening to the music. The espresso could be better, though. It's well done, the beans are from Colombia, but the underroasting leaves behind an unpleasant and bitter taste...
Keats and Byron drank their coffees here in the early 19th century, discussing poetry, love and weather in London and Rome. Keats died from tuberculosis in a house not far from the cafe', next to the Spanish steps. I haven't been to this cafe' for over a decade and in the main time, the place has been renovated, but it remained true to the old decor (and I painting of a young boy by a Serbian painter is still there). The prices have increased - single espresso cost €7, cappuccino €9 and cakes in the region of €12-14, which is pricier that a menu of the day in many osterias around Rome... My favourite beverage left a grainy aftertaste and a sour linger behind...
Welcoming little café recently opened in my neighborhood. It's homely, bright and relaxed. For the most part of this Wednesday morning (March 2017) I am the only patron. The coffee is slightly too large to be called a double espresso, yet it surprises me with a good taste and consistency. Mini slice of carrot cake is the perfect accompaniment to the bitterness of my drink.
WI-FI is fast and staff helpful and friendly but not intrusive. Great place for a writing session. Or more...
In the heart of London's student life… Surrounded by University Challenge level intellectuals, I feel both young again and nostalgic about my student days in Rijeka. The windows are covered with posters of candidates for student elections; all looking determined to change the world. Storm has just passed leaving behind shinier facades and tiny drops of rain sliding down the windowpanes… Double espresso (okeyish, certainly better from the one in my student establishments) a custard tart; lots of thinking and a few words landing on the paper…
The rudest cafe' I've entered in my life! I am here for a business meeting and my colleague is late... Still as we didn't book, I'm sent to the worse table, next to the door of the Female and disabled toilets (and you cannot open the toilet door unless you move the chair).
Then my double espresso arrives. In an Illy cup! And I am hoping my mood and general impression of the place will improve. Everything but - instead of the smooth and flavoursome taste of Illy Coffee my taste buds are greeted with the savoury and coarse taste of some underroasted or underbrewed coffee. The manager kept convincing me "it's the real Illy Coffee"... If it really is (and I doubt it) - then it has been destroyed by an incompetent barista...
Maybe when your post code is South Kensington you can afford to be so arrogant.
And yes - in the end we had our meeting in another place.
Sunny, bright and crisp October morning. Last day in this affluent town in American suburbia, after a two-week workshop. A few moments of contemplation before the overnight flight back to the old continent. The double espresso is gorgeous: rich and flavoursome, leaving behind an uplifting linger. There is also a triple espresso on the menu, but I am not brave enough to taste it... Maybe next time, along one of those gigantic muffins... A really cool, modern place in a town full of churches, pricey restaurants and meticulously kept lawns...
Exiting and stylish place in the creative hub of London. It's full of young digital bohemians who ditched traditional offices for a spot in a cafe'. And if you like your coffee accompanied with a haircut or/and manicure, pedicure or any other beauty treatment - this is the perfect place for you... I opted for a toast with poached eggs, rocket and chorizo with my espresso... Delicious snack but average espresso; nicely brewed but leaving the under-roasted, rough-ish linger behind...
Writing - yes, enough done. Somehow, it's easier to be productive when everyone around seems to be in a cloud of artistic creativity!
I do like this place...regardless of disappointing espresso... (£2.50)
Within a week, September '16 managed to erase the memories of summer. Boots, wellies and slugs are marching down the pavements. A busy place with construction workers in yellow protective vests.
Strong and thick espresso leaves a grainy, coarse feeling on the tongue. Then again - it costs only £1.
Writing? Enough done...
Summer '16 Over. Kids back at school. The house and the neighborhood are eerily quiet... Trying to re-assume various creative projects and not knowing where to start. In this peaceful cafe' of one of the busiest roads in E17. It smells of full English breakfast and maple syrup pancakes. And serves perfect espresso; strong, flavorsome and moreish... A great place for any time of the day.
Writing? None done. Planning? Some...
Decadent & delicious. On an unpleasantly cold morning in late May... Years ago I lived just down the Hill and took many foreign visitors for a stroll around this historic place and a tea in this old-fashioned cafe'... Not the most amazing espresso, but a very yummy scone served with clotted cream and strawberry
conserve
(not jam!). Best of Abba is on in the background. The sound is soft, but still somehow out of place.
Writing? Not much done. Got distracted by scores of boys from the Harrow school walking up and down, carrying large folders and adjusting their silly straw hats! No doubt - a generation of new politicians in the making...
Amazing place! Open since 1831 and frequented by writers, intellectuals, students, revolutionaries...including Stendhal, Lord Byron and Dario Fo. In 1848 the riots against the Habsburg monarchy were plotted here... Until 1916 it was open 24 hours and everyone was welcomed day and night. In the green area you can still just sit and read newspapers and books without ordering anything. I am taking notes, sipping my espresso and munching on complementary gingery biscuits. Speechless in front of the unique history, timeless charm and extra-posh clientele of this place...
There seems to be a new cafe opening every month in E17...
A small and simple place on the busy St. James's Street serving just about everything. Their coffee of choice is Lavazza - nicely brewed and rich in taste. There are only a few solitary patrons on this cold March morning... And still someone is listening to loud music on their phone, that clashes with the background soft tunes. It annoys me to extreme (can't you get some headphones?)
Writing - zero.
Double espresso - £2.40!?
Oh yes, you will see me again...not...
When over a decade ago I moved to E17 this used to be my favourite cafe'. In those days it was a funky, edgy place furnished with antique furniture, kitschy bric-a-bracs and old advertising panels. And you would need a gas mask to go through the shacky looking indoor terrace at the back (for smokers's only)... Today is a plainly looking bar/restaurant with boring furniture, loud dance music and average coffee...
Overlooking a gigantic new development of houses, apartments, shops...etc. Frequented by workers in high visibility jackets who pop in for a quick "full English" and a cuppa. They are in and out in no time (the building site never sleeps...) The road ahead is noisy and crowded; buses, cars, delivery lorries, vans. A postmodern urban feeling...
Writing? Not much done. I was counting 158 buses passing by, instead...
Double espresso looks more like black Americano, but it tastes pretty good...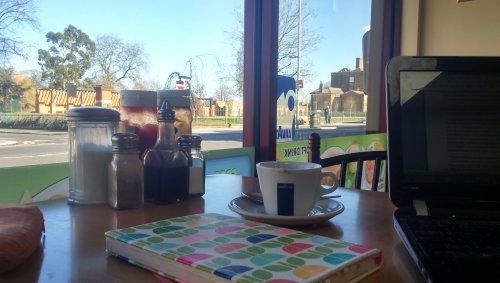 Unpretentious, down to earth and relax caff, with very friendly staff... Serving all day breakfast (for £5) and other typical worker's meals, including 'fresh sausages made exclusively for this cafe'. A good reason to bring my other half for a tasting experience...
Uplifting music on low volume. It's pleasantly empty and quiet early on a Friday morning. And double espresso is fantastic - Lavazza coffee, perfectly brewed.
Writing? Not much done. Time spent staring at the traffic going by instead... On a sunny but chili March morning; winter stillfighting spring away...
Hidden between the warehouses and vehicle repair places in Tottenham. A truly unique cafe'; it's postmodern, arty with a cutting edge. Not surprisingly as it's the front house of various creative studios occupied by local artists and the Tottenham Social. One of the studios is
The Curious menagerie
offering taxidermy classes and tuition...
Perfect place for a cold, windy and rainy Tuesday morning; for lingering around, dreaming, thinking and writing (lots done).
Espresso not the best though (it lacks smoothness and natural sweetness). Still - it's the best
locally roasted
coffee I've tasted so far.
An old lady in blue aviator hat walks into the cafe'. Shriveled from the old age and the freezing temperatures outside, her fingers deformed from arthritis. "Hello, my love!" The waiter smiles at her. "Can I order a coffee?". "How do you want it?" "Nice and strong!" "Just like me!" "Pity you are all married in here!". "Oh that wouldn't be a problem, we are Muslims! But - that's only for your blue eyes!" And her spontaneous, strong and heartfelt laughter takes over the place.
And we all - accidental bystanders on a cold Friday morning and random witnesses to a moment of pure happiness - laugh with her.
While the waiter keeps singing:
Baby's got blue eyes
Like a deep blue sea
Writing? Oh no - real fiction happens in here..
Returning shoes that do not look anything like on the online photo, then looking for something that seems to be impossible to find...can get you in a very bad mood... Then I strolled into this colourful Lebanese canteen. With extremely friendly barista, soft ethnic music in the background and a menu for every time of the day. A deliciously strong double espresso and a warm croissant stuffed with grilled halloumi and a few leaves of mint - and I'm instantaneously feeling better. And the baklavas -
oh my
- the best I ever had; nutty, rich in taste but without the usual greasy/watery texture... Writing? Yes - lots done!
Sometimes there is no much difference between an "attack" of inspiration and a call of nature... The former brought me in here. Overpowering smells of fried eggs, sausage and overheated baked beans. Menu offers
all day breakfast
alongside corned beef, scampi and lamb kidney dishes... Two old (in fact very old) ladies at the table behind are going through their diaries and planning their social calendar for the next month or two (very impressive!). In fact, a surprisingly pleasant little place just off the market, mostly frequented by women with large shopping trolleys popping in for a cuppa. No espressos in here. Instead there is bitter chicory tasting coffee... It's only £1 though...
I am meeting my poet friend Robert Y in here. Hence the journey to (almost) the other end of the Victoria Line. Former pub turned into a funky, stylish and arty tea house. No coffee on the menu; just an impressive selection of loose teas and decadent cakes. Pricey too - a large pot of Lady Grey (lighter then Earl Grey and with a lemony linger), a brownie (gooey and rich to extremes) and a walnut cream cake cost £17. But it was well worth it. The company was excellent and two hours disappeared in what looked more like 2 minutes. OK - no writing done, but lots of chats on poetry, short stories and else...
If I lived in Berlin this place would most probably be both my living room and my study. A stylish, lay-back and unique cafe in the funky Prenzlauer Berg. Not so many
digital bohemians
typing away on their laptops as the last time I was here (in 2014); instead the place is filled with chatting and laughter.
OK, OK, OK...I am cheating. I'm not writing. Instead I am enjoying a scrumptious cheese cake and a delicious espresso. On a freezing February morning, just after an early morning screening at the Berlinale... (And thinking of Branka and Danijela...)
Authentic, loud and tasty Portuguese Cafe'. Television with news in Portuguese is on full volume. The donut is fresh and soft and the vanilla cream sinful. Double espresso is just perfect - with a deep and rich texture and the flavour of some exotic places. Writing? Well - not really. It's Friday and I chat with the amazing Maria De Luz... A few more visits - and I will be fluent in Portuguese...
Books and coffee are a match made in heaven. This cafe' certainly lives by this philosophy. Shelves are full of books and double espresso is perfect; full-bodied and flavorsome (Musetti). There is soft, classical music in the background. Most tables are occupied by solitary people typing away at their laptops (many novels in progress...). The owner is from Kosovo and speaks perfect Croatian. I could easily linger in here for the whole day... Writing? More re-writing. Yes - lots done.
My first ever cafe' in London. I worked as au-pair around the corner and I came in on a rainy August Morning in 1996. The coffee was weak and watery. I was the only one sitting on my own looking lost (in thoughts; and space) and a young chap gave me his newspaper to read... Two decades later - the place is still equally friendly, patrons talk to each other as if we all know each other for years. And the espresso is gorgeous - perfectly roasted (lavazza) and perfectly brewed... Not much writing done; but lots of necessary deletions...
Windy and cold Monday morning; leaves and pages of newspaper furiously dancing at the pavements outside. A cosy little refuge from the storm Imogen. Fabulous selection of sweet treats: brownies, brioches, toasted almonds swirls, chocolate swirls, meringues...just to mention a few. I opt for apple and cinnamon scone with cream and jam. Absolutely delicious! Writing? Yes - a few paragraphs done! Double espresso? Well - I am still to find a good "locally roasted artisan coffee" that doesn't leave the under-roasted, unripe linger behind...
Cute little place somewhere in Chingford; accidentally discovered after a visit to the blinds shop. Grey and windy Saturday afternoon, child dropped at one of her many activities, other half peacefully reading the newspaper at the other side of the table... Writing and re-writing the same paragraph. A pleasant cafe' with a kids corner and dinning area at the back. Double espresso is OK-ish; good texture, medium roast, but with sandy aftertaste...
Paragraph? Still unfinished...
Just around the corner from the last office of my former ("city") life... A laid-back place with soft yoga/meditation music in the background. Mostly frequented by digital bohemians hardly lifting their eyes from their screens. The miniature espresso tastes of under-roasted coffee leaving behind a rancid linger.
Pastel the nata
is delicious, though... And a few paragraphs done before the food-market wakes up and Wendy arrives...
Unpretentious cafe' facing a busy and noisy road. Single and double-decker buses, fire engines, ambulances and police cars speed by tirelessly. A few frustrated Arsenal supporters loudly express their disappointment with last night game. (
Oh dear...
) First class service makes up for the modest interior. The espresso is perfect: full, thick, flavorsome...
I complain about being cold and the owner rushes to turn up the heating and then brings me another delicious espresso
on the house
. Oh, I do like this place!
Solitary table between two plants... What a perfect place for a few "stolen" moments for writing in between food shopping and rushing home. Extremely busy place with people from all walks of life and backgrounds. Excellent for fragments and notes of potential stories... And - unlike my concentration - the espresso never lets me down...
Bright and relaxed place overlooking Islington Green, on a sunny and warm autumn day. It's frequented by a mix of digital bohemians staring into their small screen and solitary book readers engrossed into yet another story... Noisy road in front with constant beeping and irritating sirens on the loop... Coffee is amazing (Kimbo) and the brownie absolutely delicious... Not the cheapest place, though... And not much writing done, either...
Not sure how or why I found myself here... A sudden shower on a hot July day and a cancelled meeting around the corner... This place is too busy and too noisy. A few businessmen and businesswomen are stubbornly conducting a meeting in the corner ... Amazing selection of extremely sugary and well decorated cakes. Coffee is not bad either; but the
patisserie
is more suitable for a chat with a friend than writing...
This place is well known in E17 for its philosophy of fairly traded ingredients, encouraging seasonal local produce and serving delicious vegetarian meals. A pleasant refuge after the morning walk on the hottest morning of summer '15 so far. It's quiet, almost empty at this hour. There is lots of light coming through the large windows overlooking a noisy and busy street with double-deckers, convertibles and delivery vans oozing along and beeping impatiently. The Wi-Fi is fast, the service great and the coffee absolutely excellent. It has a deep, earthy aroma and with no doubt tops my list of the best coffee in 2015... Writing? Yes - lots done.
Located at the top of Springfield park; somewhere at the spot where Walthamstow meets Clapton and Stoke Newington. An airy and bright place overlooking ancient trees and rose bushes. Cyclists wheezing by and dog walkers playing with their pets are the only distraction. It's quite different at the weekend, with scores of families and screaming kids... On a sunny weekday's morning is just perfect; with the Latino tunes in the back ground and pretty good coffee... Good place for chilling out... Not bad for writing either...
A small Italian cafe in a residential road. It's a sunny and bright Monday morning; perfect for a walk and a coffee stop. There are
Mulino Bianco
biscuits on sale (my favourite) and a large selection of Sicilian
canoli
and
pasta sfoglia tubes
with pistachio, lemon, cream, chocolate and few other feelings... Absolutely delicious! And so is the coffee - strong and full of flavour. With the soft tunes of Zucchero's music and the Italian chats at the other other tables you can easily imagine to be somewhere else...in a side street of Palermo, maybe... A charming place indeed...but without the toilet not suitable for long writing (or other) sessions...
It's like stepping into your old granny's front room. The first thing you notice is brik-a-brak of antique and old cups and plates and the needlework tablecloths with a hole or two around the edges. Alice in the Wonderland motifs are all over the place; hanging cards and large chess pieces. The coffee from the cafetiere tastes just right: intense and flavoursome but not too strong. The overindulgent 'I-so-didn't-need-that' almond orange marmalade cake is slightly too sugary. Old songs from the 1940's (I asked ) are playing on a soft volume... A perfect place to hung around for hours finishing (or trying to) all those unfinished projects...
Cafe' & bookshop in one. Beautiful overpowering scent of old dusty books mixed with the inky smell of the new ones. With its knitted throws, colorful flowery cushions and bright tablecloths this place could pass for a summer retreat of a retired literature teacher. Knut Hamsun appears to be a popular name both between used and new books... Strong and rich coffee and delicious cherry brownie... What a unique place; and not just for a couple of hours. I could spend days in here...
Unreasonably cold and unpleasant June morning. A tiny cafe' in the large Somerset House. I'm sitting in the window overlooking the courtyard featured in the movie
Last chance Harvey
(Emma Thompson and Dustin Hoffman) with almost empty screen in front of me. The water fountains are rhythmically appearing and disappearing, jumping high in the air and retreating into the ground. A nice morning after all; with a strong coffee and dark, chocolaty gooey brownie... A place for contemplating, dreaming, planning maybe... Writing less so...
Escaping a noisy children party and the accumulating crowds of the shopping centre. It's early in the day and the cafe' is still pleasant and quiet. The spur in my creativity doesn't last long; instead I stare around at scores of cheerful shoppers enjoying a warm day in late May...
Stranded in the City I struggle to find a nice cafe' (as usual). It's all fancy champagne bars and overpriced gourmet pubs... I stare at people walking by, men wearing navy or grey suits and carrying folders and laptops and women in black talking on their mobiles. City of London is just like another planet; and I don't find it too inspiring...
Killing time waiting for a late flight... People are rushing in all directions and crashing into suitcases and rucksacks and walking off without words of apology. Gates are been announced and late passengers called. Children are crying and youngsters parading in mini shorts and vests heading off to warmer climates... Inspiration galore... The coffee is strong and the cake is delicious...and the departure board announces further delays...
A quaint and old fashioned looking tea room in the centre of London (next to children's clothes at the top floor of House of Fraser). It offers an amazing selection of savoury and sweet scones: cheddar and fresh herbs, ginger, fruit, cranberry and white chocolate, apple and cinnamon... They are warm, crumbly and truly more-ish. Quiet and charming place for a contemplative break, relaxed reading or slow writing when in centre of London. The coffee is disappointingly weak and tasteless, though..
Unpretentious looking place in the extremely popular area of London, next door to The Old Truman Brewery. Chill-out tunes on the low, unobtrusive volume and a parade of creative types popping in or strolling by. There is also a floor upstairs but with its red leather sofas and dimmed lights it's more appealing for an evening drink then a morning
trying-to-write
session. Health warning: seriously strong and thick coffee and delicious
pasteis de nata
.
My office-from-office when the farm up the hill is cut out of civilisation and electricity and phone lines are down... A relaxed cafe with a smiley and accommodating waitress and frequented by locals popping to the Yellow Shop next door for a loaf of bread or carton of milk and taking a detour for a coffee...actually more likely half a pint of beer... And delivery drivers who found themselves in the Istrian hinterland... Fast Wi-Fi, excellent coffee, interesting characters - oh I do like working from here...
More or less located on the same spot of the first cafe' I regularly visited during my secondary school/A-level equivalent. In the socialist style cafeteria popularly called "The Milk Cafe" I used to drink tea with three sugars (!). It's a noisy and busy place offering delicious cakes, strong coffee and incredibly fast Wi-Fi. Overlooking the main square in town, where everyone seems to know everyone, this is a perfect place for checking emails, noting ideas and relaxing...
A disorganised Monday morning, a persistent cold and a couple of wrong turnings brought me here. A small yet friendly cafe'. As I stare at the busy road, a child comes to sit next to me. I give her a piece of paper and a pen and she draws smiley face after smiley face and nothing else. They serve Lavazza coffee; rich and thick. Not much writing done. But lots of thinking... Mostly optimistic.
Airy, light, pleasant place over two floors overlooking the main train station. I like gazing at people rushing to and from the train; or waiting impatiently for a friend, a lover, a blind date... The gentleman at the next table tells me all about his life. From his military service in Algeria to life in France, his 5 sons and 3 daughters, his coach journey from Paris to London Victoria... And I wish my French was better... A great place for inspiration; less so for writing.
PS1: Make sure you don't misplace the receipt as you'll need a secret code to enter the toilets...
PS2: I've returned with my five year old a month or so later. We are unable to enter the toilets and when I complain to the waitress; she tells me of. I don't think you'll see me soon for writing or else...
A quaint and stylish place in posh Highbury; opposite a Greengrocers and La Fromagerie. Soft music in the background and periodic whizzing of the coffee machine make a smoothing soundtrack for a creative morning. My mind keeps wondering off, like a light balloon, eventually producing a few creative paragraphs! The coffee is thick and aromatic and it lingers like a pleasant memory...
A very lay-back and relaxed cafe' with works of emerging local artists decorating its walls. A perfect place for a lunch, catch up with friends, meetings and other social activities. Maybe not so for writing; far to easy to get distracted and the the bench in the corner a tiny bit too uncomfortable for long sessions. Very tasty coffee, though.
Perfect place for a mid-morning stop. After a long walk on a rainy Tuesday. Its peaceful and calm interior with leaflets advertising yoga classes, swimming for babies and Swedish language lessons clashes against the music background of David Bowie's and The Rolling Stone's numbers (...but I like it!). The black coffee is just right: rich and tasty, not too strong. I escape the place as hordes of new mums come in with their sweet newborns...
Seemed an appropriately named cafe' for a sunny and warm morning in early March. Spring is definitely on its way! And not too far to walk for my injured leg. A typical workers' caff serving full English breakfasts (including black puddings!) and steak and kidney pies. Pleasantly empty on Wednesday morning; just an elderly couple talking about spending the rest of the day in their garden. Coffee tastes OK, but with the price of £1.80 it's too pricey for the place and the area...
Real discovery: a quiet, petite cafe' on the corner of a busy road. Like a refuge from the hustle and bustle of the outside world. A perfect place for solo people; carrying a laptop, a book or just a piece of paper. There is a complementary bottle of water at each table - nice touch!
Next door to the Buddhist Centre; maybe that would explain the relaxing and calming atmosphere of this cafe' with meditation music on soft volume. There is a meeting taking place at the nearby table discussing leaflets and marketing campaigns (so out of place...) Amazingly tasty coffee; deep, rich, thick and flavoursome.
Charming Belgian cafe in the heart of the busy Covent Garden's Market. Coffee (surprisingly not too tasty) is served in large bowls, the "hand-warmers". Frequented by a mix of business-marketing people and accidental passers-by. It's nosy and busy but still a perfect place for business meeting, a chat with old friends or just musing... It has to do with the background music of Vivaldi's Four Seasons...
A family run, cozy place catering for all ages and tastes. Excellent cakes; but far too noisy with all the children running around and shouting. Much more pleasant in summer with the tables outside, next to a busy suburban road...
A truly amazing place. Stepping into the world of vintage neon signs and loud lights feels like entering into some distant future; and for some strange reason, not sure why, it reminds me of Cowboy Bepob. It's a rainy February day and the place is empty; just me, my laptop and a couple of people in the other corner. More than inspiration, I find fascinating and unexpected (as the place is an attack on your visual perception) relaxation. And the coffee is very good too.
Overlooking the office where I spent a decade of my corporate life... And then ran in here for my lunch break with a notebook. Large parts of my novel "Ladybird, Ladybird" were written in here... Frequented by city types in grey or navy blue suits and creative folk for the Silicon roundabout. Both staring at their large laptops. A dynamic place with a delicious double espresso...
Charming, friendly and tasty. Fabulous cakes (although sometimes too sweet!). With its corner dedicated to children, this is a perfect place for a family break... Not so much for writing or hearing yourself thinking...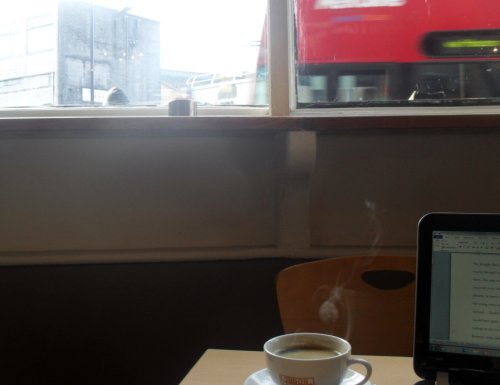 Next door to the popular live music venue The Garage (been there in 1996!). A pleasant and relaxed cafe' on a crisp and bright winter's day. Frequented by freelancers, business people and students. Three funny Italian gentlemen are running the place. Amazing menu of cakes and savories. Coffee, surprisingly, just so-so.
A true workers' caff with everyone wearing heavy duty timberland boots (including me) and showing off a tattoo (excluding me). A few vans are parked outside obscuring my view. The smell of sizzling bacon, sausages and black pudding is overpowering. Black coffee is not bad. Not bad at all for £1.
Just around the corner. A charming, unique and quite petite place. It feels like stepping into someone's front room.The coffee is pretty good and there is great selection of home made cakes and biscuits. A perfect cafe' for a moment of contemplation...
Between all the chain cafe's, Costa is my favourite, for no particular reason. A busy and noisy place overlooking a large supermarket. A young Italian girl is loudly talking to her boyfriend and applying black nail polish. A no-nonsense businessman is discussing a sale deal over the phone. Quite inspirational place, really...
Friendly place where the owner knows your usual drink and gets it ready as soon as you walk in. Billie Holiday seem to be on every time I'm there. Free Wi-Fi. Hours go by in seconds; not necessary in the most creative way...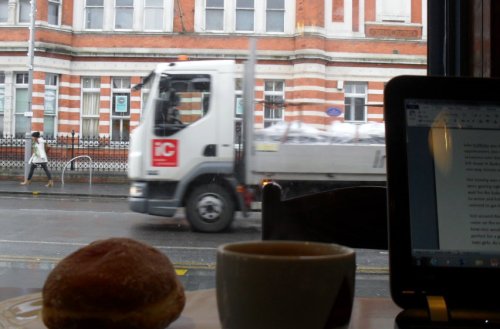 A charming Portuguese cafe' with delicious donuts and pasteis de nata. A perfect place for dreaming and thinking, really... With the raindrops sliding down the window panes...
Little cafe' overlooking the busy Hoe Street. If there wasn't for the annoying music blasting from the E4 channel on the TV, it would be a pleasant place... Pity...
It appears the favourite cafe of four charming elderly ladies. They park their shopping trolleys along the wall and chat about gardening and grandchildren. They always insist on paying each other teas. The television is showing Turkish pop music clips (men with naked chests running through leafy forest). Quite inspirational, really.
Coffees, cakes, burgers and shakes. American style. Overlooking the workers adding final touches to the pavement in front of the new Walthamstow (with cinema, Nando's & Pizza Express). A pleasant place early on a Wednesday morning...
Best pastries and coffees in E17. Charming little place for breakfast, reading the papers, dreaming... Writing maybe...
Decorated with retro birthday cakes; basically dolls with dresses made of sponge and cream. Amazingly tasty "Gozleme" - rolled in front of you and the filled with spinach and cheese fried on a lamp looking stove.
Not sure why I keep returning to this place. It's a rough and deprived area. The 2011 "Blackberry riots" that spread throughout London and the UK started here following the police shooting of Mark Duggan (just around the corner). The music is good: Albatross by Fleetwood Mac, Jolene by Dolly Parton. And so are the scones...
A cafe' for breakfast, lunch & dinner. Free and fast Wi-Fi. Busy market life running past the windows and occasionally stepping in. Very friendly waiters and waitresses.
Decadent and postmodern place frequented by inspiring characters; from local businessmen/women to stay at home mums/dads, pensioners, project managers and creative lot and resting cyclists (still wearing their helmet). A perfect place to pick up ideas on life in E17.
A historic place. Established in 1925. I used to come here when the aging granddaughters of the original owner still ran it. It lost that authentic charm since they retired. Pity.
Great for coffees, cakes, lunches, chats...but not for writing. The noise of screaming children and clinking cups echos around. Too much light for the screen.
Typical workers' cafe. Walls are decorated with Turkish Pandora blue eye charms and portraits of Lady D; both in extreme amounts. Constant parade of quintessential East Enders...
Cafe' with a restaurant menu. There is not much you can't find on its menu: from tagines and grilled meats to pizzas, pastas, crepes and waffles... Amazing cakes. It's a noisy corner and a busy place with distractions galore...
Great menu. Delicious Lemon Cheese Cake. Staff a little bit too pushy. Not a place to spend hours staring at your screen & passers-by...
Relaxed jazzy music. Yummy cakes and mostly Spanish food. Interesting people walking in and out. Inspirational place. Easy to get dreamy & distracted though...
Arty looking cafe' in a large hall with no windows (I like looking at the world going by...). Frequented by local artists, freelancers and stay at home mums/dads. Quite cold place, really. And pricey. Not to my liking.
Down to earth place. Spacious & airy; with a lot of natural light. A charmingly noisy Italian family with an unruly toddler sitting nearby (and it's testing my knowledge of Southern Italian dialects). The caring owner (or wife of the owner) keeps checking on me and asking if I'm cold and whether I would like to move to a table near the radiator. Thanks, I just don't like removing my scarf... A very friendly cafe' indeed...
Great food. Amazingly friendly and chatty staff. A little clinical looking interior with white, grey and black colour floors and walls. Toilets outside on the back (far too cold). Still warm croissant. Table too small for the laptop. A place for a chat, not writing...
A modest cafe' at the bottom part of the Walthamstow High Street. Very pleasant with a lot of light. Large windows let you stare at the world going by, on a chilly and crisp January morning... And coffee, what an amazing coffee!!! It has to be Illy Caffe!
A small cafe'. A grey morning. Waiting for rain. Music on the shuffle jumps between Elton John, Billie Holiday and Amy Winehouse. A group of young women at the next table are talking about mascarpone, home made Savoiardi biscuits and zabaione... And large kitchens and dinner parties... This place is too posh for me. And it doesn't have a toilet...
Postmodern, consumeristic cafe in a large supermarket. I used to come here when on maternity leave years ago. It has all the facilities you would need with a small baby and cheap foods and drinks. Parade of interesting characters interrupting their shopping with a cuppa tea. Not bad coffee either...
My local. A greasy spoon caff frequented by local road workers, builders and plumbers, wearing yellow or orangey fluorescent protective overalls. Friendly owner who knows my usual brew. A combination of Cockney and Eastern European accents. Truly amazing conversations.